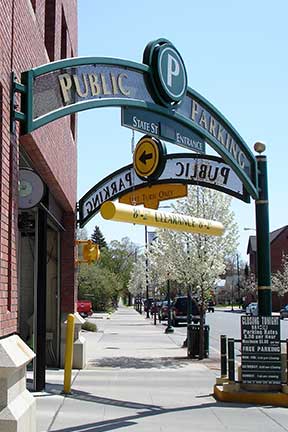 Traverse City Parking Services Office
Located in the Larry C. Hardy Parking Garage
303 East State Street
Traverse City, Michigan 49686
(231) 922-0241
If you experience problems with the online portal, please contact Traverse City Parking Services (231) 922-0241 or [email protected].
When paying citations by mail, please allow 3-5 days to ensure that your payment is received on time. Tickets are deemed paid when they are received at the Parking Violations Bureau Office.
Appeal Process
Request an Appeal

You may appeal a citation by calling our office or through the online portal. Written letters and supporting documentation will only be accepted after the open appeal is saved in the system.
Required Information: Name, Citation Number, Citation Issue Date, License Plate Number, Contact Phone Number and Address or Email Address where appeal information should be sent.
An appeal number will be provided once the appeal is submitted.
If additional information is requested, it can be emailed to

[email protected]

or added through the online portal. Please reference your appeal number when emailing supporting information.
General Information
You have 15 days from the citation issue date to appeal the citation.
Appeals are resolved on Thursday mornings for both Level 1 and Level 2 appeals.
Citation fines are frozen when placed on an open appeal, and will not escalate or accumulate additional fines until after a judgment is made.
For denied appeals, citations will resume normal escalations 3 days after the judgment date.
Appeal Timeline
Level 1 - You must call our office and request an appeal or appeal through the online portal. The appeal must be submitted within 15 days of issuance.
Level 2 - If you wish to reappeal, you must call our office and request an escalation to Level 2 no more than 10 days after the Level 1 judgment.
Level 3 - You must call our office to request transfer to the Magistrate at the 86th District Court no more than 10 days after the Level 2 judgment or within 15 days of the citation issue date. Information will be gathered and used to fill out the required paperwork. You must provide a copy of your driver's license. The 86th District Court will notify you of your hearing date.
Common City of Traverse City Parking Ordinances
Overnight Parking
Ordinance 410.04, Section D
(i) From November 16 through the following April 14, vehicles found parked on any street or alley between the hours of 3:00 a.m. and 6:00 a.m. may be towed at the owner's expense.
(ii) From April 15 through November 15, overnight parking between the hours of 3:00 a.m. and 6:00 a.m. is allowed on Saturday, Sunday, and Monday mornings only on any street where parking is otherwise allowed....
Meter Violations and Overtime Meter Violations (Meter Coining)

Ordinance 484.04, Sections A-C
(a)...whenever a vehicle is parked in the space adjacent to a parking meter, the operator of the vehicle shall activate the meter by depositing in the meter a United States coin of a denomination indicated on the parking meter legend... The parking meters must be activated from 8:00 a.m. until 6:00 p.m., Monday through Saturday except holidays and except such other times or circumstances as designated by the City Manager.
(b) Overtime parking. No person shall leave any vehicle in any metered parking place when the meters must be activated for longer than the time indicated on the parking meter.... No person shall deposit or cause to be deposited in a parking meter coin for the purpose of increasing or extending the parking time of any vehicle beyond the legal parking time which had been established for the parking space adjacent to the parking meter. It shall be a separate offense to park at a metered space for each period of time equal to the maximum allowed on the meter.
(c) A person who violated this section is responsible for a civil infraction subject to the fine indicated in Section 488.06.
Twelve or more meter violations in a calendar year
Ordinance 488.06, Uniform Traffic Code, Offense 38
(38) Parking beyond time allowed on meter - 12 or more violations within one-year period (Codified Ordinance Section 484.04) will result in a fine of $75.00 per violation for the remainder of that calendar year.
UPDATED SEPTEMBER 10, 2018